Virtual Iris Set To Revolutionize E-Commerce
By Devin Comiskey
There may be a small revolution brewing in the Internet world once again that may change the way products are sold.
Imagine being able to post hundreds of product images on your e-commerce site that allows visitors to zoom in on a product to see it up close before adding it to a shopping cart. Or be able to rotate the item to have a better look before bidding on an item on eBay. To measure the item to make sure it will fit in a garage. Or to click on hot spots in the image to see small details of a product close-up.
To make things even better, you won't need a team of developers to do this. Soon, you'll be able to do it all on your own in just a matter of hours with a new rich media tool called Virtual Iris.
Formed just over a year and a half ago by former Speedscan CEO Gary Kramer and film director and photographer Adam Rubin, Virtual Iris is an interactive tool designed to enhance buying and selling online.
"We originally began as a service using other tools," said Rubin, President of Virtual Iris. "There were a lot of implementation issues, like plug-ins needing to be installed, that were hindering interactivity online."
Rubin said the company used all sorts of older rich media tools like Quicktime VR, Java applets and Flash.
"When I saw what Virtual Iris did, I was blown away by it. Since the beginning, I said 'As soon as it's ready, I want to integrate your technology into our web site,.'"
—Todd Lustgarten
CEO, Playstorm Toys
"The first problem we found was that firewalls frequently stopped us. It's difficult to load things on computers. With Flash, especially, implementation also took a long time - sometimes two to three weeks per image," said CEO Kramer.
"When you're looking at rich media, you often have to re-write pages or navigation," said VP of Business Development Jim Malmberg.
Rubin also pointed out other limiting issues in many previously available rich media tools including pixilated, scaled images and static applet windows.
"We asked ourselves 'How can we make this more of a real-world experience online?,'" he said.
Working with a number of vendor partners, the team at Virtual Iris learned quickly what kinds of interfaces and functionality online shoppers wanted. The result was a tool that creates simple image files that incorporate functional toolbars that allows users to scale, spin and measure any image.
Instead of being stuck looking at a static two-dimensional image with few details, consumers will now have the ability to closely examine a digital camera, jacket or car as if the item was actually in front of them.
"We now have the ability for volume production of rich media instead of having to outsource. We now have capability of every image to be dynamic," said Malmberg. "If you have a high turnover inventory, in the past it hasn't been affordable to create rich media. Now, it's affordable and fast."
But Virtual Iris' capabilities don't end on e-commerce store pages. It can also be used in banner ads, email and even PowerPoint presentations.
Virtual Iris images can have two different interfaces. The first one is a click and drag 'touch pad' which enables uses to simply enlarge an image to almost full screen, with little degradation in image quality, and rotate it. The more advanced interface includes a tool bar that allows users to scale the image, spin it, measure it, click an information button to obtain additional information about it (i.e. pricing and shipping options), change the item's color and even add the item directly to a shopping cart.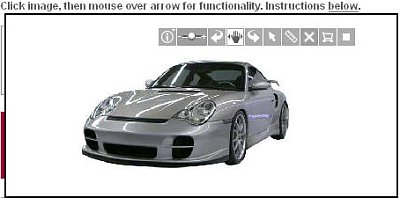 The advanced Virtual Iris tool bar allows users to examine products up close. The rich media creation tool is set to revolutionize the online selling and buying experience.
"We're working towards e-businesses flow enhancement - cutting down on the number of clicks to buy something," said Kramer. "This allows the consumer to determine what's important to them."
Better yet, a Virtual Iris rich media image loads just as fast as any other imbedded image file.
Another use for Virtual Iris images? You can use them in eBay auctions and Outlook email messages.
"Javascript isn't allowed in email or eBay, but now you can upload a fully functional image file," said Rubin. He said the company has been working with eBay for some time to make sure the technology was compatible.
First customers
Virtual Iris is first launching its product as an enterprise tool for larger e-commerce sites. One of its first customers is Playstorm Toys, makers of Magg Racers, is set to debut its new U.S. site demonstrating the power of Virtual Iris.
Playstorm was started by a group of inventors, marketers and distributors in 2004. Its mission is to create original, innovate products and to be a creative company at a time the toy business needs an infusion of creativity.
"In the last four or five years, there's been a lot of consolidation in the toy industry. A lot of creativity gets lost in long term in brand name marketing. There's a dearth of companies that are really looking for those novel, original products," said Todd Lustgarten, CEO of Playstorm. "Our charter is to become that company that takes chances where a lot of others are not taking chances."
"When I saw what Virtual Iris did, I was blown away by it. Since the beginning, I said 'As soon as it's ready, I want to integrate your technology into our web site,'" said Lustgarten, who watched the technology grow during the past year.
Lustagarten said Virtual Iris is a core piece in Playstorm's drive to gain a foothold in the American market. Incorporating the technology into its marketing plans was a simple process.
"As a startup, we're focused on creativity and being on the cutting edge without the huge expense of being on cutting edge. This fell right into parameters of our resources and ability," he said.
"We took Magg Racers and went through the setup process for Virtual Iris - which was as simple as putting a product on a spin-around table and taking pictures. Our Webmaster worked with them and within one-day our entire product line - 31 items - was loaded on the site. Overall, the time it took to shoot was an hour and a half and another hour to load the technology. Now you can click on a product, spin it, see its features," said Lustgarten.
"With 30 different characters, you can look at the characters and see how they fall into collectibility. The way we're going to use it is we're not selling direct to customers. We are part of the marketing to customers. Our guides and packaging will drive people to site where they can see other characters they don't have in their collection. We are part and parcel of consumer marketing and due diligence," he added.
On the wholesale side, Playstorm can take advantage of Virtual Iris technology as well.
"Because we can promote that we're living up to our charter, people are taking us more seriously. I was able to show several potential retail partners our products, who took us more seriously once they saw the site. If someone says 'I want to know more about your product,' they can go to the site and examine the product up close," said Lustgarten.
He said being associated with the next generation of web technology gives more credibility to Playstorm.
"As our company grows, this will become a much more critical selling tool. People can see our products, see exactly what they're getting and what it does. To me, that's a great tool. If I'm a retailer, and I want to sell online, you're giving (consumers) the ability to examine the product. We're really excited about this," said Lustgarten.
Another early adopter of Virtual Iris is Gateway, Inc.
"We're just starting down the road using them. If you look at what sells on the web, the more you can capture people's interactivity, share of view time, the more likely you are to sell. Obviously, rich media has been out there. But to implement it is a giant pain. They way they run it - no plug-ins, a standard set of tools - it makes the creation a snap. That's one of the things that's very compelling to us. It's a lot easier to do," said Marshall Toplansky, VP of Core Marketing Strategies for Gateway.
Toplansky is a firm believer that Virtual Iris is a revolutionary tool that is going to change the way things are sold on the Web.
"The other thing that really intrigues me about it, is the ability for individual consumers to get rich media options. Look at eBay. You have, what, 100M listing, many of which have pictures. Now, this could change the landscape dramatically. This is just the start. I like the simplicity, the cost savings, and now it just opens up a whole consumer market. People using this will force adoption on the corporate side," said Toplansky.
While he wouldn't disclose Gateway's plans for Virtual Iris on its Web site, Toplansky did say the company is investigating different implementation issues and is using the technology in sales presentations.
"For sales guys getting mind share, it could really do the trick," he said.
Virtual Licensing
Virtual Iris is currently available for a monthly license charge. Rubin said the fee is based on the "number of eyeballs," which right now means approximately $2,000 per month for larger sites. While that means it's out of the range for most small business owners for the time being, Rubin did leave open the possibility that individuals might have access to the technology in the not-so-distant future.
If they want this technology to take off, the folks at Virtual Iris would be wise to get it in consumers' hands as soon as possible.